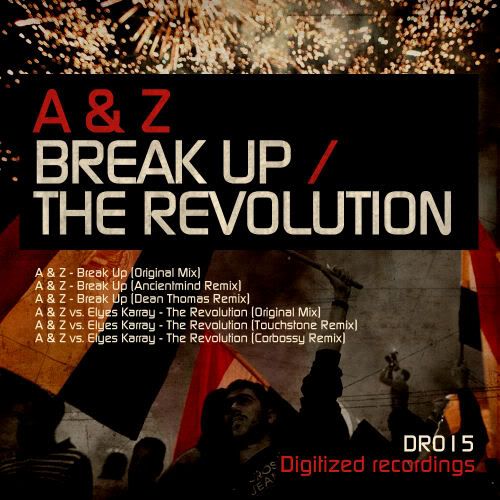 DR015 A & Z - Break Up/The Revolution
OUT NOW as a Trackitdown Exclusive, click link below to purchase
http://www.trackitdown.net/recordlabel/ ... dings.html
Worldwide Release - August 1st
Digitized's 15th release is it's most uplifting yet with a huge E.P. from Egyptian duo 'A & Z'. Already favourites of Aly & Fila and the uplifting trance scene, A & Z are a massive talent. This E.P. see's their own track 'Break Up' plus a colaboration with 'Elyes Karray' inspired by recent events in the middle east called 'The Revolution'.
The package also includes a epic trance remix from 'Ancientmind', a uplifting monster remix from 'Dean Thomas', a power trance remix from 'Touchstone' and an incredible proggy techy beast from the one and only 'Corbossy'.
This release has had the labels biggest support yet. With plays on 'A State Of Trance', 'A State Of Trance Sundays', 'Future Sound Of Egypt', 'ReClublic', 'Threshold', 'Slinky Radio', plus many more shows and gigs, the list goes on. The whole package has had suuport from A & Z, Ally Brown, Aly & Fila, Ancientmind, Ashley Wallbridge, Bjorn Akesson, Cliffy Burrows, Darren Porter, Dave Deen, Dave Nadz, DJ Kaenow, Filth and Splendour, Flash Brothers, Giuseppe Ottaviani, Haris C, Jaytech, Joop, Karybde And Scylla, Kiz Everard, Kumara van der Gaast, Lazarus, Lee Haslam, Les Hemstock, Louk Hashemi, M.I.K.E. (Push), Manuel Le Saux, Marcel Woods, Mark Pledger, Markus Schulz, Mat Lock, Matamar DJ's, Med vs. Neil Bamford, Mitchell Claxton, Ozzy XPM, Paul Van Dyk, Rank 1, Redstar, ReOrder, Riley & Durrant, Robert Vadney, Ruben De Ronde, Scot Project, Singularity, Sophie Sugar, Space Garden, Suzy Solar, Tim Rand, Touchstone, tyDi, Vicky Wood plus many more.
You Tube Links:
A & Z vs. Elyes Karray - The Revolution (Corbossy Remix)
http://www.youtube.com/watch?v=83DluCyzpsY
A & Z - Break Up (Original Mix)
http://www.youtube.com/watch?v=nRZZkXWFKo4
A & Z - Break Up (Ancientmind Remix)
http://www.youtube.com/watch?v=SQZzvChR4sE
A & Z vs. Elyes Karray - The Revolution (Original Mix)
http://www.youtube.com/watch?v=Dtqpt0nM3C0
A & Z vs. Elyes Karray - The Revolution (Touchstone Remix)
http://www.youtube.com/watch?v=TflIWM6b98g
A & Z - Break Up (Dean Thomas Remix)
http://www.youtube.com/watch?v=WGNfrdFSf4g